Blu Essentials Aloe Rosemary Pedicure & Manicure Kit contains Aloe Vera and goodness of Rosemary Pure Essential Oils. A perfect soothing pedicure & manicure kit for all seasons, this kit helps keep your foot and hands fresh always. Aloe Vera strengthens and moisturizes the nails and keeps the skin hydrated and removes dead cells. Rosemary Essential Oil has antibacterial and antifungal properties and strengthens the nails. The kit not only provides you with that desired cleansing, but also has antifungal and antibacterial properties which protect the skin.
Best suited for: All Skin
61g Aloe Rosemary Pedicure & Manicure Kit - MRP Rs. 300.00 (inclusive of all taxes) Rs. 0.81 per g
Regular price
Rs. 300.00
Sale price
Rs. 300.00
Unit price
per
Sold out
Care & Patch Test

A patch test is advisable before adding a new product to your routine. Apply the product to your skin and observe for the next 24 hours. If there's no reaction, you can apply the product. If the skin is sensitive, continue the test for 7 days. This helps ensure you are not allergic to any ingredient. If irritation occurs, please discontinue the product and consult a dermatologist.
Disclaimer

Our products are made from natural ingredients and are lab tested. All ingredients do not suit all skin types and user should take care and follow the Care & Patch Test before applying the products on hair, skin or body. Products should be stored in a cool & dry place to avoid moisture retention & dirt accumulation. Product should be used within the date of expiry to activate the full potent of ingredients.
Statutory Product Information

Product Name: Aloe Rosemary Pedicure & Manicure Kit

Manufactured By: Natures Indulgence, No:15/1, Sarkar para road,Kalipur, Purbo Nischintapur, Budge Budge, Kolkata, West Bengal, India- 700 138

Country of Origin: India

Common Name: Aloe Rosemary Pedicure & Manicure Kit

Date of Manufacturing: APR 2023

Expiry Date: APR 2025

Batch Number: BATCH.BEARM.G01

MRP: Aloe Rosemary Pedicure & Manicure Kit 61 g [MRP Rs. 300.00 (inclusive of all taxes), Rs. 0.81 per g]

Net Quantity: 61g

Unit of Measure: g

Cost per ml/gram: Aloe Rosemary Pedicure & Manicure Kit - Rs. 0.81 per g

Customer Care Information: Blu Essentials, A unit of Natures Indulgence, TS-84, Industrial Estate Ekkatuthangal, 3rd floor, Chennai - 600 032 Tamil Nadu, India. Contact us at +91-87 54 50 34 07 or email us at orders@bluessentials.in.
Product Type
View full details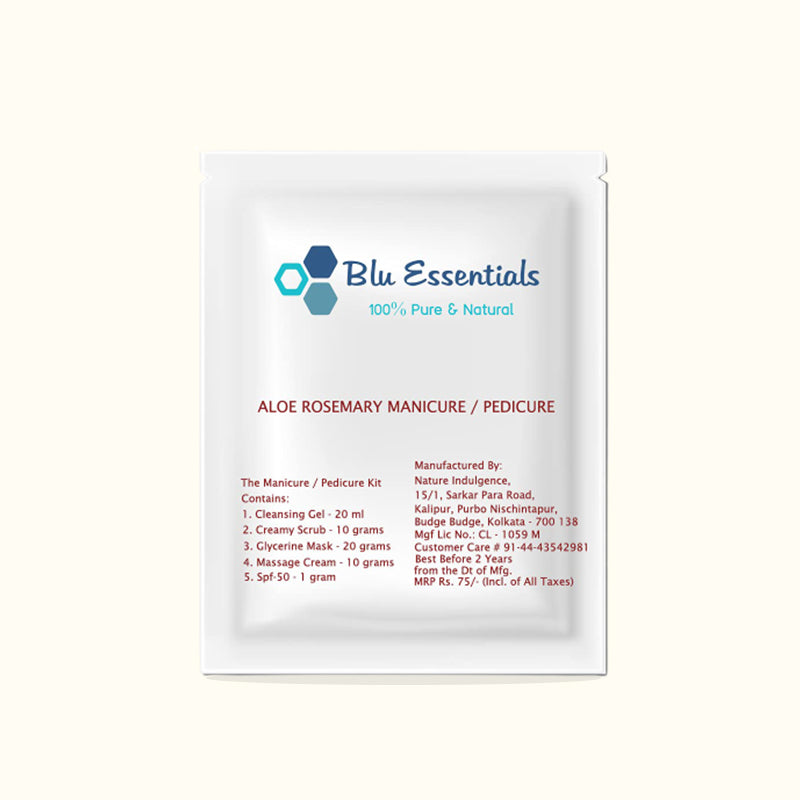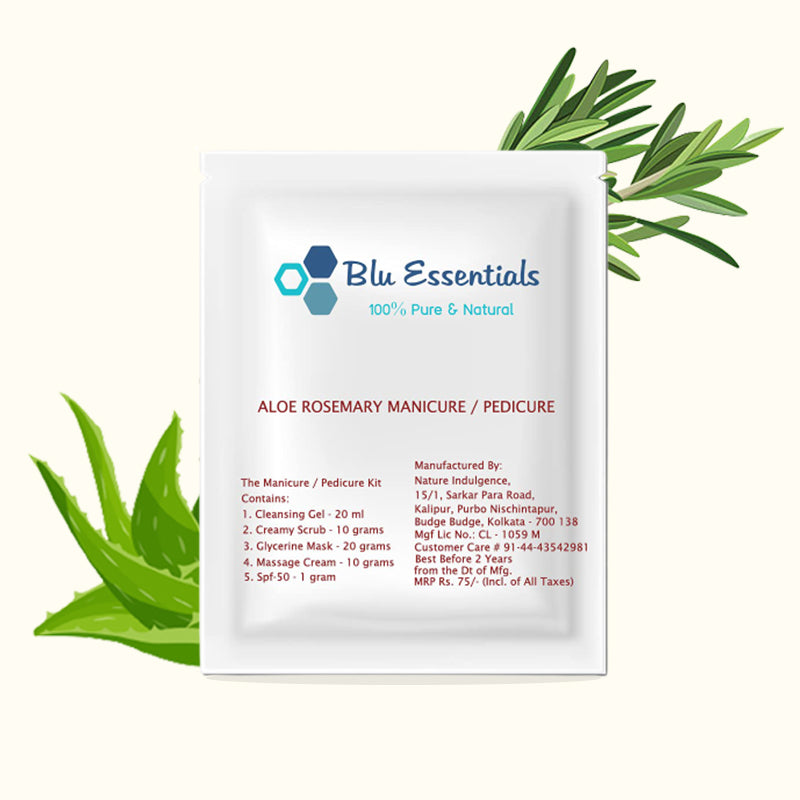 Step 1:
Set up a place where you will be doing the manicure and pedicure. Spread towel or newspaper on the floor and keep a stool or chair on it. Using a table, keep all the materials you need for the Mani and Pedi ready at hand. Keep a bucket filled with water to use. Keep another bucket filled half with little-more-than-warm water to soak your feet and hands in. Wash your hands and feet thoroughly with a mild soap before you head to your mani-pedi spot. Sanitize your hands and feet with a sanitizer once you're sitting and ready.
Step 2:
Using a nail polish remover and cotton balls, remove any previously applied nail polish. Ensure your nails polish free. Soak the feet and hands in the warm water bucket. Keep it soaked for 10 minutes. Use the scrub to remove any dead skin. Pat your hands and feet dry.
Step 3:
Mix the ingredients of Aloe Rosemary Pedicure & Manicure Kit and use a nail brush to clean under and around the nails and the nail bed. Cut your nails with a nail cutter to the desired length and shape. Then file your nails with a separate nail file or the one in your nail cutter.
You then need to buff your nails. This smoothens the surface and removes any yellow stains on the nails.
Here's why we are naturally the best
Our ingredients are naturally sourced and products are carefully formulated and tested over time to ensure best results suiting all skin types
Primary Ingredients
Our products are made from the best quality natural ingredients which are gentle on the skin yet effective with active elements for best and fastest results
Aloe Vera

Aloe Vera gel helps stimulate the production of collagen in the skin, which reduces the appearance of scarring. It is full of vitamins, minerals and antioxidant compounds that provides relief from skin irritation & itching.

Rosemary

Rosemary oil relieves muscle aches and pains, while olive oil moisturizes skin, and sea salt exfoliates and pays extra attention to calluses and hard spots giving a glow to your nails & skin.

Glycerine Mask

Glycerin helps your skin heal and helps fight fungal infections like eczema as well by helping in the process of skin repair and regeneration.

Spf-50

Spf-50 is formulated to allow less damaging rays to reach your skin's surface, keeping it healthy and safe from damage from UV rays.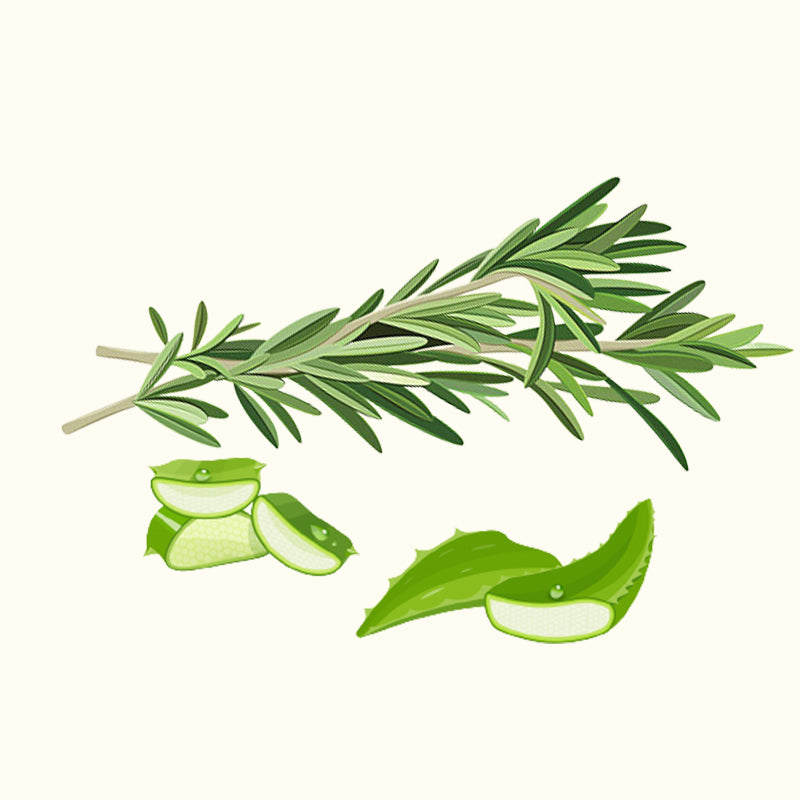 Other Ingredients
Aloe Rosemary Pedicure & Manicure Kit contains
▪ Cleansing Gel 20ml
▪ Creamy Scrub 10gm
▪ Glycerine Mask 20gm
▪ Massage Cream 10gm
▪ spf-50 1gm
Collapsible content
What Age Group Can Use This Product?

Recommended age for use of this product is 18 and above.
Is This A Unisex Product?

Yes. This product is a unisex product. It suits both women & men.
Can Expecting And Breastfeeding Mothers Use This Product?

Yes. This product is for external use only and is safe for expecting and breastfeeding mothers.
Does This Product Contain Essential Oils?

Yes. This product contains pure rosemary essential oil.
Does The Scent Of The Product Change Over Time?

Scent of the product remains stable till the shelf life.
Does The Colour Of The Oil Change Over Time?

Colour of the product remains stable till the shelf life.
What Is The Shelf Life Of This Product?

This product is best before 48 months from the date of manufacturing.
Easy To Use Products
Blu Essential natural wellness products are easy to use and DIY products minutely curated keeping in mind the fast paced life and less time we spend on self care
Natural. Tested. Certified.
Each and every ingredient and formulation of ours undergoes rigorous testing to ensure it meets statutory standards. We are committed to use natural products with active ingredients which are gentle and deliver better results with every use