Blu Essentials Ayurvedic Hair Oil maintains the hair without letting the scalp dry, treats any scalp irritations and retains the serums inside the pores.
Best suited for: All Hair Types
200mL Ayurvedic Hair Oil - MRP Rs. 660.00 (inclusive of all taxes) Rs. 3.30 per mL
Regular price
Sale price
Rs. 660.00
Unit price
per
Sold out
Care & Patch Test

A patch test is advisable before adding a new product to your routine. Apply the product to your skin and observe for the next 24 hours. If there's no reaction, you can apply the product. If the skin is sensitive, continue the test for 7 days. This helps ensure you are not allergic to any ingredient. If irritation occurs, please discontinue the product and consult a dermatologist.
Disclaimer

Our products are made from natural ingredients and are lab tested. All ingredients do not suit all skin types and user should take care and follow the Care & Patch Test before applying the products on hair, skin or body. Products should be stored in a cool & dry place to avoid moisture retention & dirt accumulation. Product should be used within the date of expiry to activate the full potent of ingredients.
Statutory Product Information

Product Name: Ayurvedic Hair Oil

Manufactured By: Natures Indulgence, Madhuvan, No: 19/110 C, S R Compound, Observatory Road, Kodaikanal, Tamil Nadu, India- 624 102

Country of Origin: India

Common Name: Ayurvedic Hair Serum

Date of Manufacturing: JUL 2023

Expiry Date: JUL 2025

Batch Number: HO 07.23

MRP: Ayurvedic Hair Oil 200 mL [MRP Rs. 660.00 (inclusive of all taxes), Rs. 3.30 per mL]

Net Quantity: 200mL

Unit of Measure: mL

Cost per ml/gram: 200mL Ayurvedic Hair Oil - Rs. 3.30 per mL

Customer Care Information: Blu Essentials, A unit of Natures Indulgence, TS-84, Industrial Estate Ekkatuthangal, 3rd floor, Chennai - 600 032 Tamil Nadu, India. Contact us at +91-87 54 50 34 07 or email us at orders@bluessentials.in.
Product Type
View full details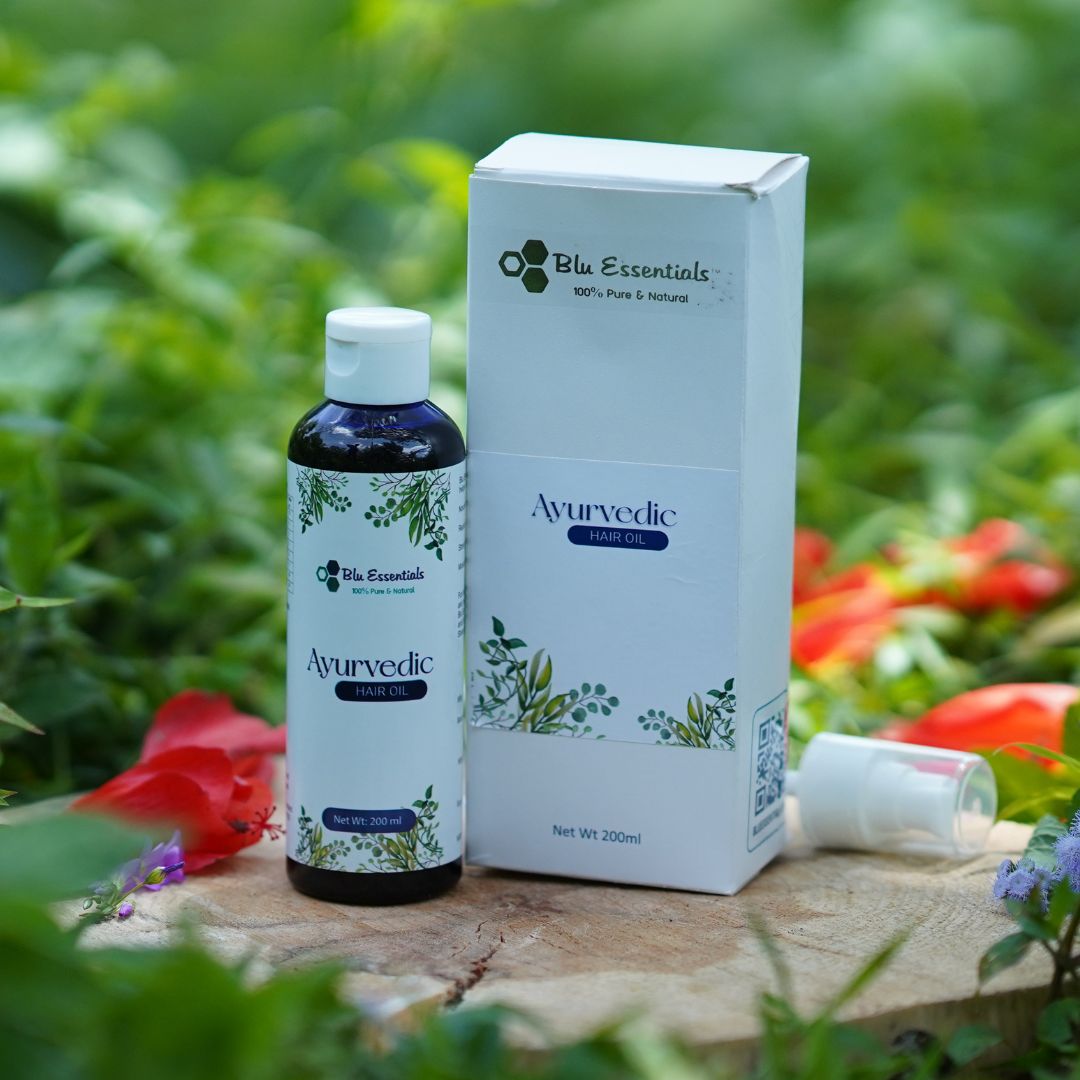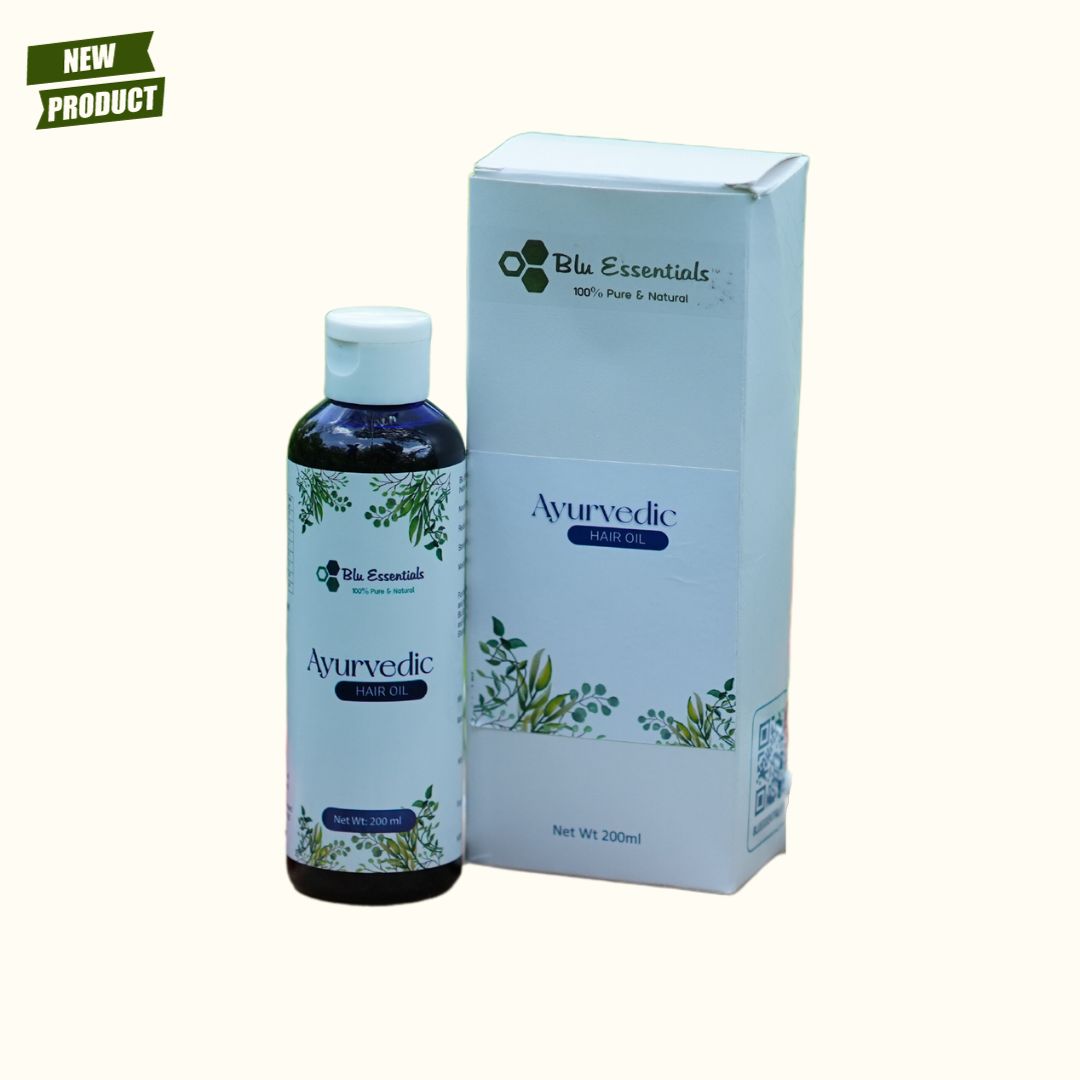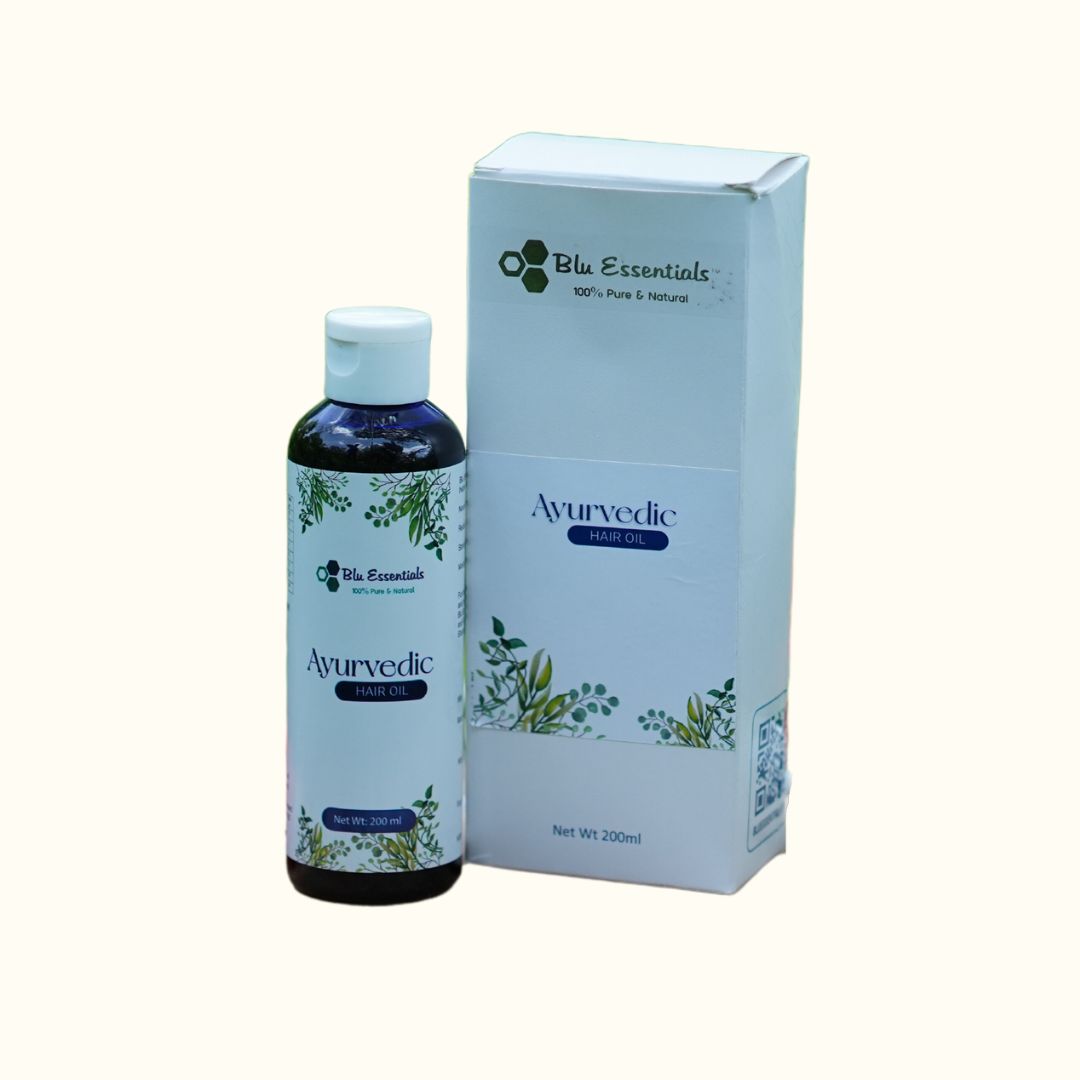 Step 1:
Wash your hair with Aurvedic Hair Shampoo in the morning.
Step 2:
Dry your hair and scalp and use a few drops of Aurvedic Hair Serum and gently massage your head so the serum spreads to all parts of the hair.
Step 3:
Apply a few drops of Aurvedic Hair Oil on your scalp before going to bed and gently massage your head to improve blood circulation at the root of the hair.
Here's why we are naturally the best
Our ingredients are naturally sourced and products are carefully formulated and tested over time to ensure best results suiting all skin types
Primary Ingredients
Our products are made from the best quality natural ingredients which are gentle on the skin yet effective with active elements for best and fastest results
Hibiscus

Hibiscus flower is a rich source of flavonoids & amino acids. While the former helps increase blood circulation in the scalp and stimulate dormant follicles, the latter helps with keratin production, giving your hair a natural shine and
texture. Use hibiscus for treating hair fall and hair thinning problems.

Brahmi

Brahmi leaf coats hair naturally and protects it from drying. Brahmi eliminates dryness, itchiness, and flaking. Regular application of Brahmi strengthens your hair roots and keeps them well-nourished.

Neelini

The deep penetrating medicated action of Neelini nourishes & calms scalp & hair, effectively soothing, treating & controling dandruff, itching, flaking & other scalp related problems.

Sesame

Til or sesame is a great alternate to expensive, medical hair health treatments often accompanied by harmful side effects. Sesame aids hair growth, eradicates dandruff and helps slow down premature greying of hair.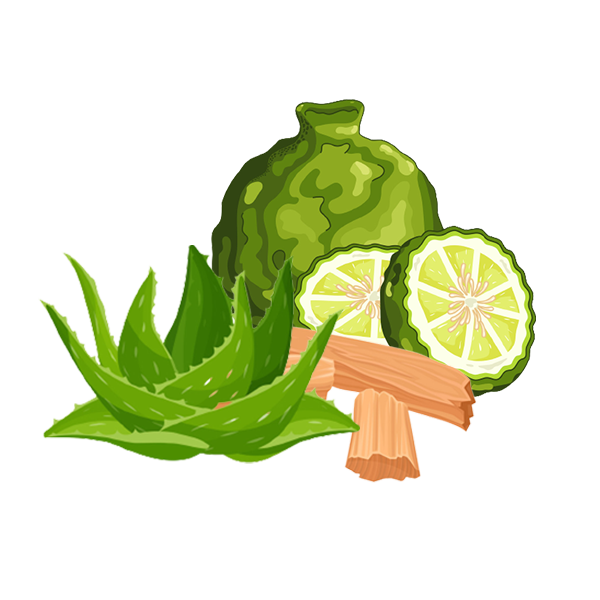 Other Ingredients
Ayurvedic Hair Oil contains:
▪ Brahmi
▪ Neelini
▪ Guduchi
▪ Amalaki
▪ Haritaki
▪ Hibiscus / Japa
▪ Narikela
▪ Aurvedic Ingredients
Collapsible content
What Age Group Can Use This Product?

Recommended age for use of this product is 18 and above.
Is This A Unisex Product?

Yes. This product is a unisex product. It suits both women & men.
Can Expecting And Breastfeeding Mothers Use This Product?

Yes. This product is for external use only and is safe for expecting and breastfeeding mothers.
Does This Product Contain Essential Oils?

Yes. This product contains pure essential oils.
Does The Scent Of The Product Change Over Time?

Scent of the product remains stable till the shelf life.
Does The Colour Of The Oil Change Over Time?

Colour of the product remains stable till the shelf life.
What Is The Shelf Life Of This Product?

This product is best before 48 months from the date of manufacturing.
Easy To Use Products
Blu Essential natural wellness products are easy to use and DIY products minutely curated keeping in mind the fast paced life and less time we spend on self care
Natural. Tested. Certified.
Each and every ingredient and formulation of ours undergoes rigorous testing to ensure it meets statutory standards. We are committed to use natural products with active ingredients which are gentle and deliver better results with every use